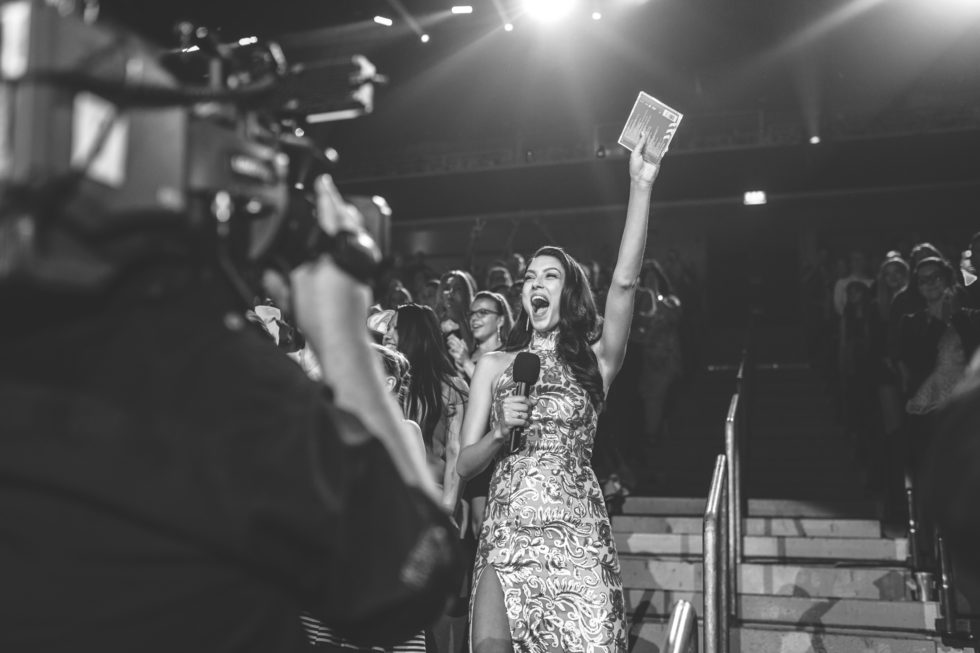 Kaum zu glauben, aber bei mir sind es schon 6 1/2 Jahre her als ich mich bei GNTM beworben habe. Ich erinnere mich an alles, als sei es gestern gewesen. Ich kann sagen: diese Show hat definitiv mein Leben verändert! Und jetzt, über 6 Jahre später, stehe ich wieder im Finale und kann sehen wie aufgeregt die Mädchen den Abend durchleben. Nur diesmal bin ich keine Kandidatin, sondern moderiere zum 4. Mal die Live Schalten Backstage. Backstage ist alles laut und chaotisch: die Kandidatinnen gehen ein letztes Mal ihre Laufstegchoreografie durch , schauen ob ihre Outfits richtig sitzen und checken noch mal ihr Make-up. Heidi und die Jury sind voller Vorfreude. Das Publikum schreit. 10.000 Menschen LIVE . Ich kann euch sagen, auf dieser Bühne fühlt man sich ganz klein und zeitgleich doch ganz groß, es ist einfach ein irres Gefühl. Und dann geht es endlich los. Helene Fischer, Beth Ditto, Wolfgang Joop, James Blunt und Robin Schulz sind auch da, jeder fiebert mit. Selbst ich bin ein bisschen nervös. Es ist eine Achterbahn der Gefühle. Die ersten Entscheidungen fallen und jetzt wird es richtig spannend: Wer wird Germanys next Topmodel? Denn ihr wisst – Heidi:" Nur eine kann Germany's next Topmodel werden!"😉 Jeder ist schon auf dem Höhepunkt seiner Spannung und hält es kaum noch aus. Laaaaaange Pause (Man Heidi, du machst es aber auch immer spannend -Herzinfarkt-) Gewonnen hat: Celine!! An dieser Stelle: Herzlichen Glückwunsch meine Liebe! Es war ein toller Abend und das wird jetzt erst mal gefeiert!
It is hard to believe but it is already 6 1/2 years ago that I applied for GNTM! I do remember as if it was yesterday! I can definitely claim that my life changed fundamentally from then on! And now, over 6 years later, I'm in the Finale again and can witness how excited the girls are. This time I'm not participating as a candidate! But I'm gonna moderate the live- turn for the fourth time! Backstage, everything is loud and chaotic: the girls practice once more their choreography, check their outfits and refresh their make- up. Heidi and the jury are in pleasant anticipation. The audience clap enthusiastically. 10.000 people LIVE!! Well, I can tell you: on this stage you suddenly have total divergent feelings: you feel so small and as well grand, at the same time! And then finally the slow starts: Helene Fischer, Beth Ditto, Wolfgang Joop, James Blunt und Robin Schulz are on it, as well. It's such an insane feeling! Everybody cheers. Even I am quite a bit nervous. It's like an emotional roller coaster! First decisions are made! And now it's getting exciting: who is gonna be Germany's next Topmodel? Because you know, as Heidi always says: "There can only be ONE Germany's next Topmodel!" 😉 Everybody cheers and can't wait for the winner! And suddenly: loooong break (Heidi! You really know how to increase the tension!! -heart attack-And the winner is: Celine!! Congratulations my dear! It was a really exciting evening! Now it's time to celebrate!
Ab in die Maske…währenddessen gehe ich meine Texte durch
Die Show kann losgehen! I'm ready!!!
Hier sind alle Finalistinnen! Glückwunsch an unser Topmodel Celine!!!
Wen man Backstage nicht alles trifft😉