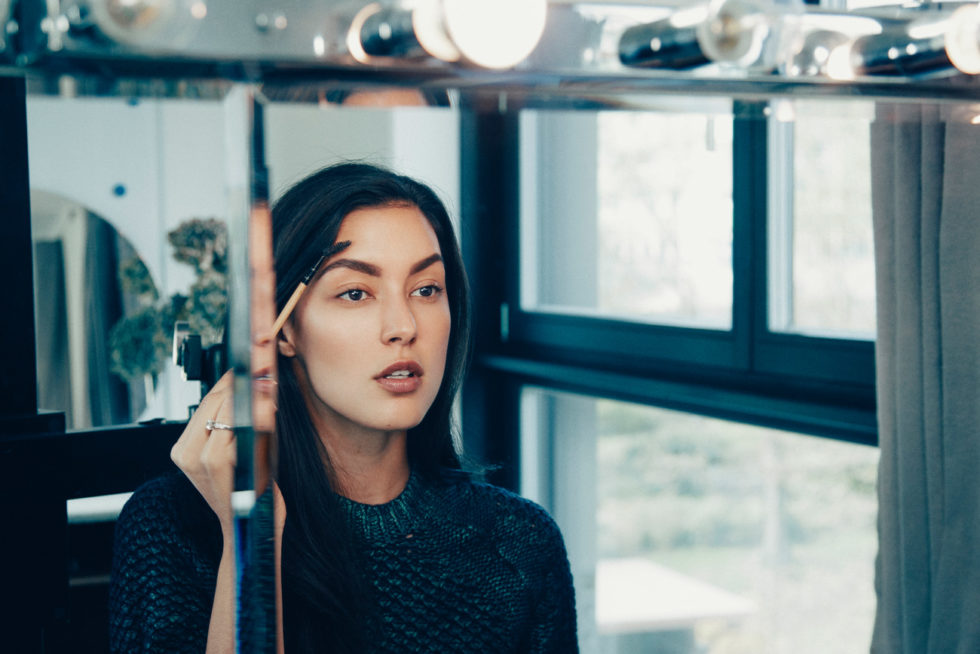 Augenbrauen; der Rahmen von unserem Gesicht. Wenn ich mich schminke, ist das für mich neben den Wimpern, das Wichtigste. Aber das wir nicht immer so, richtig?  😉 Wir Kinder der 90er haben sie schon ganz dünn getragen, weil es einfach total IN war (welch Schreck!). Aber spätestens seit Cara Delevigne tragen wir sie wieder dick in Form und gerne dominant. Ich verrate euch jetzt, wie ihr eure Augenbrauen in nur 3 Minuten ganz einfach betonen könnt. Also aufgepasst!
Eyebrows ;the frame of our face. When I put on my make up this is, beneath my lashes the most important part. But it hasn't always been like this, right? Us children of the 90s have already worn them super thin because it was totally IN these days (shame on me!) But lately, thanks to Clara Delevigne we love them big and dominant! Today I'm gonna tell you how to get them wonderfully emphasized. So read carefully:
Ihr braucht natürlich einen Augenbrauenstift (unten habe ich meinen verlinkt) // Before you can start you will need an eyebrow pen
Ihr legt euren Augenbrauenstift senkrecht an eure Nase bis zur Augenbrauen. Da könnt ihr einen Punkt malen zur Hilfe, denn weiter sollte die Augenbraue nach innen nicht reichen // Limit the inner border of your brows: For this hold an eyebrow pen from your ala to the root of your nose. Just draw a little dot there to mark the inner border! Your brow shouldn't overlap!
Dann legt ihr den Stift an euren Nasenflügel, bis er genau am Ende eures Auge vorbeigeht und euer Augenbrauenende trifft. Bis zu diesem Punkt solltet ihr eure Augenbrauen malen //To limit the outer part of your eyebrow, hold the pen from the ala of your nose again, but this time diagonal to the corner of your eye. Visualize this line until the hair line. Your eyebrow shouldn't overlap this line! If you like you can again mark it with a small dot, so you will later know how far to fill it up.
Jetzt bürstet ihre eure Augenbrauen nach oben aus //Brush out your eyebrows
Mit kleinen und feinen Strichen umrandet ihr eure Brauen (achtet darauf, dass ihr nur bis zu euren Punkten schminkt, damit eure Augenbrauen die richtige Größe haben) // Now encircle your eyebrow gently (watch out to do this only to your marked dots so your brows will have the right size!)
Mit einem feinen Pinsel blendet ihr eure Umrandung ins innere der Augenbrauen aus. Wenn ihr mehr Farbe braucht könnt ihr mit dem Stift nachbessern // Take a fine brush to fade out your encircled brows. For this, move it from the outside to the inside. If you removed to much, fill it up again, and redo this step.
Ausbürsten! Diesen Punkt finde ich ganz wichtig, weil nur so die Augenbrauen natürlich aussehen. Nachbessern wenn ihr zu viel weggebürstet habt, geht immer schnell aber wir wollen ja keine Balken im Gesicht. Wenn ihr länger unterwegs seid, einfach etwas Haarspray auf eure Augenbrauenbürste sprühen und am Schluss damit alles fixieren // After that, brush your brows again from the roots of your nose to the hair line (so naturally it is the direction they grew). I think this is the most important part in the whole eyebrow- make- up because only in this way your brows will look naturally! You can always correct if you removed to much of your drawings. Just be careful not to put on too much! You want to emphasize your eyebrow, you don't want to have a bar in your face 😉 When you know you gonna have a long day there is one easy trick to make your eyebrow- make- up long lasting: Just put some of your hairspray onto the brush and gently run it over your painted brows.